2022 Nissan Armada vs. 2022 Jeep Wagoneer
The 2022 Nissan Armada lives up to its name with its large size, soothing comfort and outstanding performance. But how does it stack up against the 2022 Jeep Wagoneer, a refined SUV with superb accommodations, off-road capability and excellent towing capacity?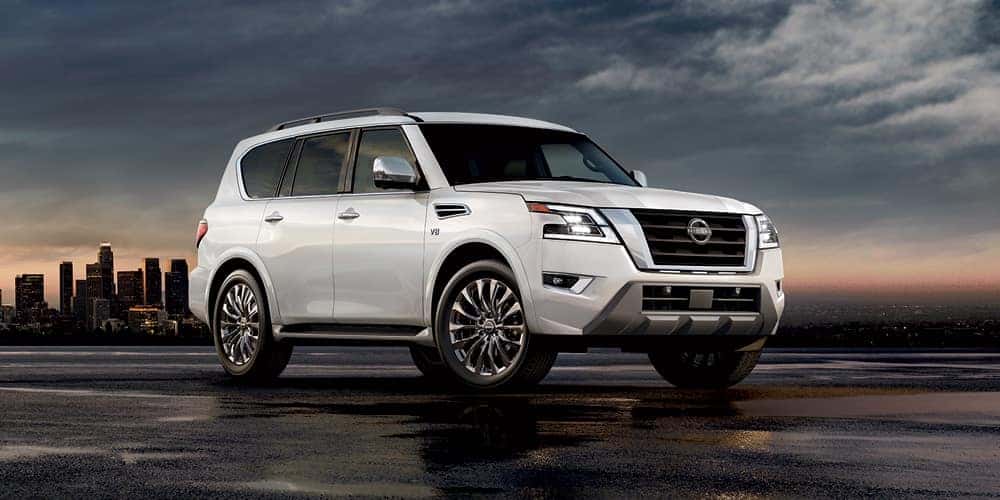 Design & Style
The Jeep Wagoneer offers 3 row seating with the ability to tow ten thousand pounds. The cabin is rich in technological gadgetry including five displays, and rear wheel drive has been standardized. There is also an air suspension which is optional and boosts its off-road handling but the majority of drivers will choose the 4 wheel drive system.
The Nissan Armada is also a 3 row sport utility vehicle that is packed with opulence. It has garnered praise for its serene riding experience and those that purchase the Platinum trim will get the finest amenities available. Its newest features for the year include a revised facelift and 1 touch functionality within its power folding 3rd row. The cabin is insulated from external noise and the majority of its materials are both soft and visually appealing.
Technology & Safety
Every Nissan Armada is equipped with the latest driver assistance gear. This includes emergency automatic brakes, blind area monitoring, and automatic alerts for cross traffic in the rear with lane management. Luxuries within its cabin include 12.3 inch displays, satellite radio from SiriusXM, Apple CarPlay or Android Auto and a thirteen speaker sound system from Bose.
The Jeep Wagoneer largely has the same safety features found in the Armada, including lane management, pedestrian detection, blind area monitoring and automated emergency brakes. There are also multiple airbags and luxuries within its cabin include 4G LTE, Amazon Alexa, integrated navigation, satellite radio from SiriusXM and 10.3 inch touch displays.
Performance
The Jeep Wagoneer is exceedingly powerful. Each model is outfitted with a V8, 5.7 liter engine that can generate 392 horsepower which incorporates a hybrid system that is 48 volts with cylinder deactivation which is designed to conserve fuel. An automatic eight speed transmission comes standard, but for off-roading 4 wheel drive is preferable.
The Nissan Armada is equally powerful and equipped with a V8 engine that can generate 400 horsepower. It can accelerate from zero to sixty in 5.8 seconds and can hold a maximum of eight passengers. Though eighteen inch wheels come standard, drivers can upgrade to twenty two inches if they want and it has the option of all or rear wheel drive.
The Bottom Line
Though the Nissan Armada and Jeep Wagoneer seat the same number of passengers and use the same type of engine, the Armada has larger touchscreens, faster zero to sixty acceleration times, and this combined with the Jeep Wagoneer's awkward external proportions, heavier handling and steep asking price make the Nissan Armada the winner.
Ready to Schedule a 2022 Nissan Armada Test Drive Today?
If you are interested in experiencing the luxury package that the 2022 Nissan Armada offers, you can test drive this stellar car with us at Nissan of Stockton. We are located at E Hammer Ln, Stockton, and proudly serve car buyers in California. Drop by our showroom today or simply call us in advance to book a 2022 Nissan Armada test drive appointment.
---