2022 Nissan Armada vs. 2022 Kia Telluride
The 2022 Kia Telluride is a popular SUV due to its impeccable style, ability to haul families in comfort, and impressive safety features. But is it good enough to beat the 2022 Nissan Armada, an SUV which many consider the total package due to its spacious and lavish cabin, incredible V8 power and state of the art technology?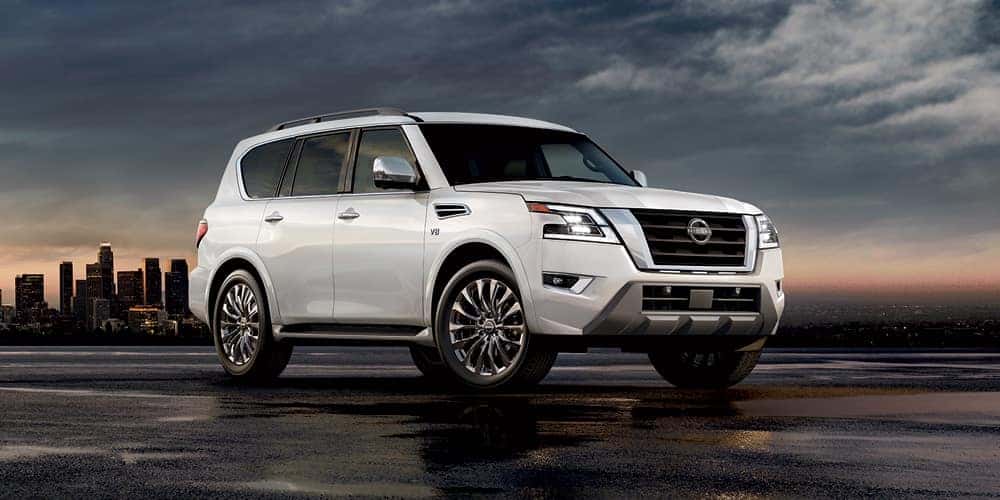 Design & Style
The Nissan Armada has a stunning external shell, with a cabin that is plush and insulated from external sound. It offers 3 rows seating which can hold a maximum of 8 passengers, and the seats are simple to fold and reset. Those that buy the Platinum edition will get opened pore wood and quilted coverings which will further reinforce its elegance.
The Kia Telluride is also a 3 row SUV with a handsome appearance and exceptional value. While the exterior appears somewhat rugged, it's balanced by the rich interior. Aside from its state of the art infotainment, it also has ventilated seats with a refined riding experience and minimal body roll. This means that when moving over uneven terrain passengers will barely notice it.
Technology & Safety
The Kia Telluride captured a perfect 5 star NHTSA rating, due to its host of driver assistance functions including a camera with 360 degrees, automated high beams, emergency automated brakes, collision alerts and multiple airbags. Amenities within its cabin include a 10.3 inch display, ten speaker sound system from Harmon Kardon, 110 volt powered inverter, and climate control.
The Nissan Armada matches the Kia Telluride when it comes to driver assistance, offering many of the same features. This includes emergency automated brakes, lane management, blind area monitoring, alerts for cross traffic in the rear and multiple airbags. Amenities within its cabin include 12.3 inch displays, in-built navigation, and satellite radio from SiriusXM, climate control, thirteen speaker Bose sound systems and the choice of Android Auto or Apple CarPlay.
Performance
The Nissan Armada is equipped with a V8, 5.6 liter engine that can generate 400 horsepower which enables it to tow 8500 pounds and accelerate from zero to sixty in 5.8 seconds. The Kia Telluride is equipped with a V6 engine that is 291 horsepower and capable of accelerating from zero to sixty in 7.1 seconds. It can hold a maximum of seven passengers.
The Bottom Line
Though the Kia Telluride captured a perfect rating from the NHTSA, the Nissan Armada outclasses it with better horsepower, larger touchscreens, the ability to seat more passengers and its sound system has more speakers. And this combined with the Telluride's intrusive cruise control makes the Nissan Armada the winner.
Ready to Schedule a 2022 Nissan Armada Test Drive Today?
If you are interested in experiencing the luxury package that the 2022 Nissan Armada offers, you can test drive this stellar car with us at Nissan of Stockton. We are located at E Hammer Ln, Stockton, and proudly serve car buyers in California. Drop by our showroom today or simply call us in advance to book a 2022 Nissan Armada test drive appointment.
---