2022 Nissan Armada vs. 2023 Toyota Sequoia
The Armada and Sequoia may be classified as full-size SUVs, but they continue to demonstrate that they are two quite different road warriors. The 2022 Nissan Armada is the new(er) child on the block, bursting with energy, curiosity, and a feeling of adventure. These two cars have equal characteristics, but as you will see, the Nissan Armada offers a few subtle advantages that set it apart. Continue reading to find out more about the 2022 Nissan Armada.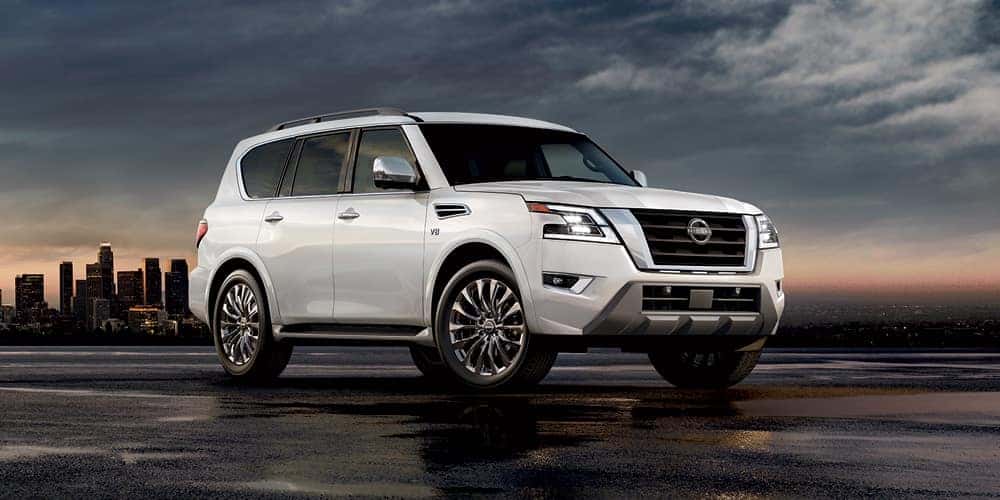 Design & Style
Rear passengers in the Nissan Armada will be able to stretch out much more than in the Toyota Sequoia. Because it has more front head- and legroom than the Toyota Sequoia, the Nissan Armada will appeal to taller drivers and passengers in the front seat.
Technology & Safety
The Nissan Armada comes equipped with a 12.3-inch touchscreen infotainment system. Among the advanced standard safety features are Intelligent Blind Spot Intervention, Intelligent Lane Intervention, and Nissan Safety Shield 360. The Nissan Safety Shield 360 technology allows the driver and passengers to see the vehicle from the front, back, and sides.
The heated 10-way power-adjustable front seats are standard on the 2022 Nissan Armada. The heated second-row seats are standard on the Platinum grade level car. This device also has regular Hill Start Assist to assist you in swiftly ascending steep inclines.
Toyota's Automatic Limited-Slip Differential is standard on the Toyota Sequoia, giving the huge SUV additional grip. It also has an eight-way power-adjustable driver's seat and a four-way adjustable front passenger seat as standard. The Sequoia boasts a 7-inch touchscreen infotainment system with Android Auto and Apple CarPlay as standard. A multi-function center console is also included.
The 2023 Toyota Sequoia comes standard with several safety technologies, including a Blind Spot Monitor with Rear Cross-Traffic Alert, a front-energy absorption crumple zone, side-impact door beams, and Toyota Safety Sense. It begins at $50,500.
Performance
The 2022 Nissan Armada is powered by a 5.6-liter V8 engine with 400 horsepower. It has a city fuel economy of 14 miles per gallon and a highway fuel economy of 19 miles per gallon. The maximum towing capability of the Nissan Armada is 8,500 pounds. It begins at $48,900.
The 2023 Toyota Sequoia has a maximum towing capacity of 7,400 pounds. It has a 5.7-liter V8 engine that produces 381 horsepower. The 2022 Sequoia gets 13 city miles per gallon and 17 highway miles per gallon.
The Bottom Line
Because it dares to exceed your ideas of what a full-size SUV should be, the 2022 Nissan Armada comfortably takes the lead over the 2023 Toyota Sequoia. It provides more power, more capability, more mobility, and incredible adaptability, all of which are unprecedented in a vehicle of this size. This distinguishes the Nissan Armada from any other SUV in its class.
Ready to Schedule a 2022 Nissan Armada Test Drive Today?
Come test drive the 2022 Nissan Armada with us at Nissan of Stockton if you want to experience the exquisite package that it offers. We are located at E Hammer Ln in Stockton and gladly serve California car buyers. Visit us today or contact ahead to book a 2022 Nissan Armada test drive.
---