2022 Nissan Frontier vs. 2022 Chevrolet Colorado
The 2022 Nissan Frontier sees a full redesign which makes it even more competitive. Its cabin is well-built, featuring an array of top-notch materials on its surfaces along with comfy and roomy seats. Travelers are set to enjoy composed handling and smooth ride in this vehicle which are highly essential factors for longer rides and off-road adventures. Its features are the latest in the market and they are highly intuitive and easy to use. Find out more about what you can expect in this compact pickup truck through our comparison article below. We have pitted it against its competitor, the 2022 Chevrolet Colorado.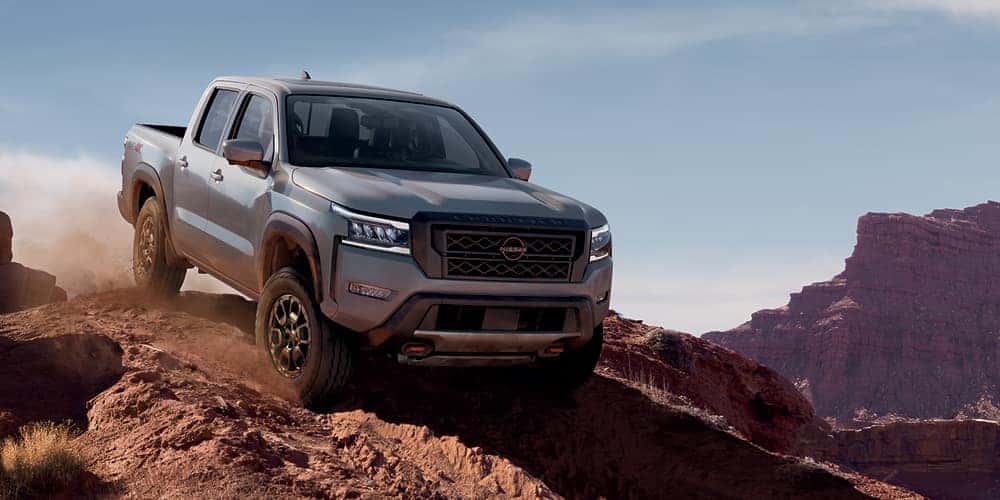 Design & Style
The Nissan Frontier has a new and vastly improved cabin that sees many top-notch materials adorned on its surfaces. Its interior looks fresh and modern, styled in an attractive way from top to bottom. There is a mixture of both soft and hard plastics which still manages to exhibit that appealing look. Up to five people can be accommodated in this pickup truck with impressive front row seats. Its back row seats are equally supportive, offering plenty of room to maneuver around.
The Chevrolet Colorado is nothing fancy or lavish. Its interior has a functional design with surfaces covered with cheap materials that seem mediocre. The vehicle can seat up to four people on comfy seats in the front row. Its back row tells a different story, fairly lacking of support and overall space.
Technology & Safety
The Nissan Frontier features a number of technological tools such as six speakers, an 8 inch touchscreen, a pair of USB ports, a satellite radio, Android Auto, Apple CarPlay, and Bluetooth. Safety tech of the car is comprised of collision warning, rearview camera, drowsiness monitor, and auto emergency brakes.
The Chevrolet Colorado is equipped with tech devices that include Bluetooth, 7 inch touchscreen, Android and Apple sync, six speakers, and radio. Safety tools include Teen Driver suite and rearview camera.
Performance
The Nissan Frontier has no major weaknesses when it comes to its performance. It offers a range of powertrain options with its base V6 engine making 310 hp. It is a fuel efficient vehicle, getting 18 mpg and 24 mpg of EPA ratings.
The Chevrolet Colorado runs on a base four-cylinder engine that can generate 200 hp. Its gas mileage returns 19 mpg for the city and 25 mpg for highways.
The Bottom Line
The Nissan Frontier receives a full redesign which makes it an excellent choice if you are looking for a modern pickup truck. It is no longer the austere, antiquated truck that looks just like any other pickup in the market. Inside, its features never fail to impress, providing easy access to directions and entertainment while on the go. The Frontier deserves a serious look for easy hauling and towing capabilities along with a beautiful cabin and intuitive features.
Ready to Schedule a 2022 Nissan Frontier Test Drive Today?
If you are interested in experiencing the luxury package that the 2022 Nissan Frontier offers, you can test drive this stellar car with us at Nissan of Stockton. We are located at E Hammer Ln, Stockton, and proudly serve car buyers in California. Drop by our showroom today or simply call us in advance to book a 2022 Nissan Frontier test drive appointment.
---