2022 Nissan Frontier vs. 2022 Ford Maverick
The 2022 Nissan Frontier is a dependable pick-up truck that offers composed handling, and guarantees a smooth ride. It also guarantees intuitive infotainment features for users. The well-built cabin is a plus, and the fact that it is completely redesigned is something you can look forward to.
The 2022 Ford Maverick, meanwhile, has its own way of catching your attention. You will love it for having been gifted with a fuel-efficient powertrain. Is this enough to topple down the opponent? Let us find out the answer.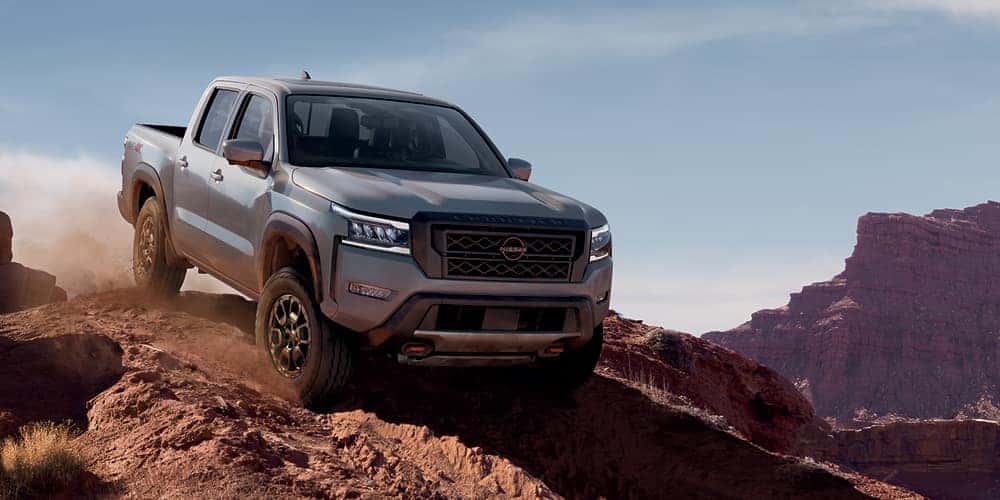 Design & Style
Gifted with a strong and sturdy body, it is hard to pass on the new edition of the Frontier. Inside it, you will appreciate that the interior combines comfort and space under one roof. There are plenty of storage compartments inside as well, where you can easily deposit your belongings whenever you are taking the trip. It can also fit up to a 6 foot-1-inch bed on the cargo area, specifically the Crew Cab model.
The 2022 Maverick shows some elegance in terms of styling, and outside it, you will see that the truck gets points for being remarkably rugged as well. At the back, however, it is unimpressive that it can only carry a 4-feet-6-inch bed, definitely smaller than the capacity of the Frontier. Hard plastics abound in the cabin too.
Technology & Safety
Using an eight-inch touch screen display for its infotainment system, the Frontier easily impresses in terms of technology. This one also gets points for its capacity to provide smartphone integration. It has a satellite radio, six speakers, two USB ports, and Bluetooth as well. Part of its list of standard driver aids are driver drowsiness monitoring, rearview camera, forward automatic emergency braking, and forward collision warning.
The 2022 Ford Maverick has an eight-inch touch screen display for its straightforward infotainment system. It does not have a satellite radio in its standard list, but it offers a Wi-Fi hot spot instead. Other technologies are already the same as those in the Frontier. Safety wise, it is gifted with the same features as those basically found in the Frontier, except for pedestrian detection.
Performance
The 2022 Nissan Frontier registers high in terms of engine performance with results that reach up to 300 horsepower; thanks to its 3.8-liter V6 engine. In the case of the Maverick, its inline-four engine can only hit a score of 191 horsepower, which is definitely way less powerful than the Frontier's performance.
The Bottom Line
The 2022 Nissan Frontier knows how to balance its engine performance with all other amenities that it is ready to offer. The Maverick tries, but fails, most especially in terms of styling and engine power.
Ready to Schedule a 2022 Nissan Frontier Test Drive Today?
If you are interested in experiencing the luxury package that the 2022 Nissan Frontier offers, you can test drive this stellar car with us at Nissan of Stockton. We are located at E Hammer Ln, Stockton, and proudly serve car buyers in California. Drop by our showroom today or simply call us in advance to book a 2022 Nissan Frontier test drive appointment.
---