2022 Nissan Kicks vs. 2022 Hyundai Kona
The 2022 Nissan Kicks is an affordable SUV with a cheerful appearance, cargo rich interior and extensive technology. What happens when it goes up against the 2022 Hyundai Kona, an SUV with a gutsy engine, compact design and standardized tech features of its own?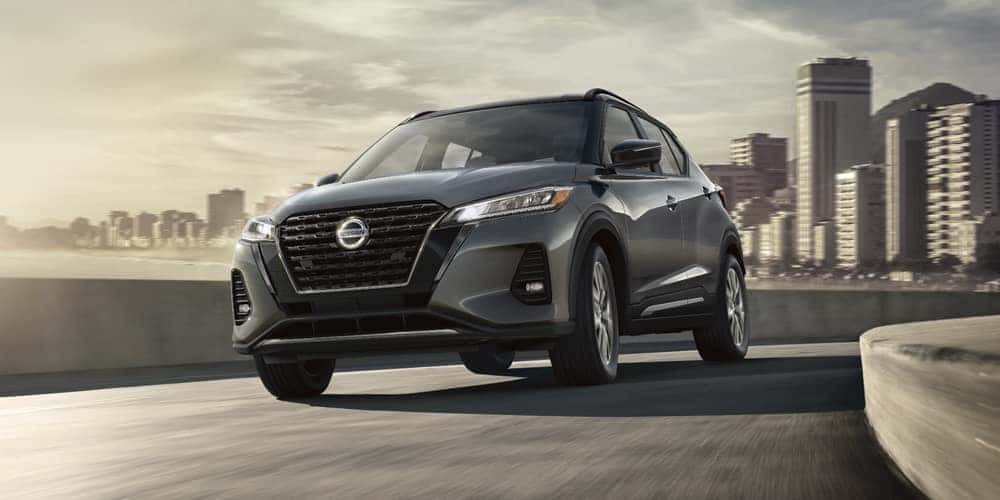 Design & Style
The Hyundai Kona has a bold style with dual 4 cylinder engine which packs quite a punch. Its newest features for 2022 include a revised interior and exterior, with updated wheel designs, new lighting elements, and broad mouth grille and back and front skid plates. Within the cabin passengers will be presented with a digitized gauge display and wireless charging for smartphones.
The Nissan Kicks is a very attractive SUV with a spacious cabin, highly efficient 4 cylinder engine and transmission which is continuously variable. It has front wheeled drive; the seats are comfortable and will remain that way even after sitting in them for hours. Its newest feature for the year includes a redesigned logo for the grille but everything else remains largely the same.
Technology & Safety
The Nissan Kicks has received a 4 star safety rating from the NHTSA. It offers multiple driver assistance functions, such as pedestrian detection, emergency automatic brakes, cruise control that is adaptive, lane departure notifications and multiple airbags. Amenities within the cabin include a seven inch touch display, 6 speaker sound system, Bluetooth support and an additional USB C port. Drivers will also be able to access the NissanConnect concierge and telematics system.
The Hyundai Kona is outfitted with most of the driver assistance gear found in the Nissan, including lane management, emergency automatic brakes, the ability to monitor the attention of the driver and automated high beams. Amenities within its cabin include eight inch touch display, the choice of Android Auto or Apple CarPlay, a steering wheel covered in leather featuring contrast stitching and controls which are fully integrated.
Performance
The Hyundai Kona is equipped with an intercooled and turbocharged inline 4 engine that is capable of generating 195 horsepower with 195 pounds of torque. This enables it to accelerate from zero to sixty in 7.3 seconds. The Nissan Kicks is also outfitted with an inline 4, DOHC sixteen valve engine that is capable of generating 122 horsepower which enables it to accelerate from zero to sixty in 9.7 seconds.
The Bottom Line
While the Hyundai Kona excels when it comes to horsepower and zero to sixty acceleration times, it has a number of serious setbacks. Aside from the fact that its overpriced compared to the Nissan, it also doesn't offer much cargo space, the steering feels vague and the standardized engine is too poky, which makes the Nissan Kicks the winner.
Ready to Schedule a 2022 Nissan Kicks Test Drive Today?
If you are interested in experiencing the luxury package that the 2022 Nissan Kicks offers, you can test drive this stellar car with us at Nissan of Stockton. We are located at E Hammer Ln, Stockton, and proudly serve car buyers in California. Drop by our showroom today or simply call us in advance to book a 2022 Nissan Kicks test drive appointment.
---