2022 Nissan Pathfinder vs. 2022 Acura MDX
The 2022 Nissan Pathfinder has been redesigned to showcase greater quality and roomy interior. Its infotainment is highly intuitive and easy to use, offering you with easy access to navigation and entertainment while on the go. Every ride will be pleasant with pleasant driving dynamics delivered by its engine. To date, the Pathfinder is one of the most upscale midsize SUVs within its vehicle class. Learn more about other aspects of this vehicle and what you stand to enjoy in each ride. We have put it up against the 2022 Acura MDX, one of its class rivals.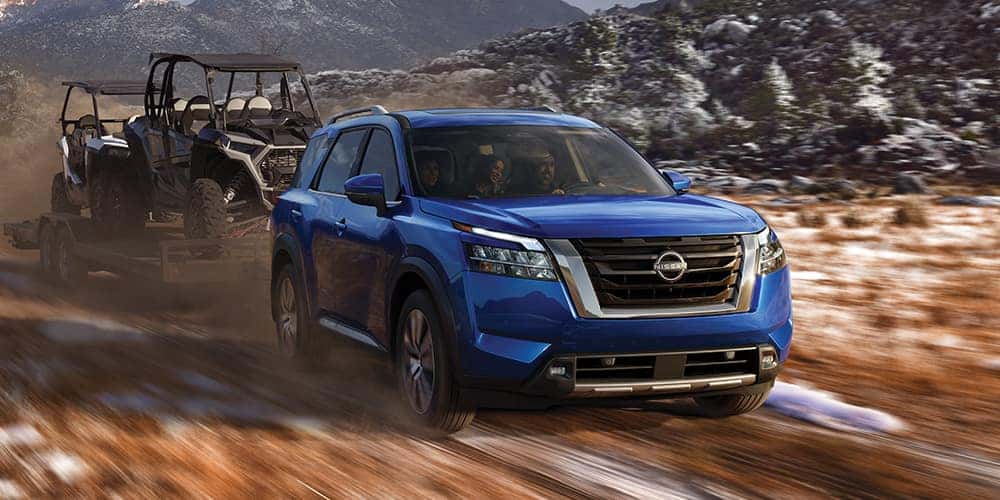 Design & Style
The Nissan Pathfinder is now back on track with a revamped cabin that makes it an even greater competition. Its cabin looks cohesive and modern, boasting many soft materials on its surfaces. Overall, its cabin has a solid build that provides optimal comfort and appeal.
The Acura MDX features an interior that is something you would expect. It has ample cargo space and roomy seats that offer enough support. There are a total of three rows to accommodate seven people. The first two rows are suitable for adults but the last row is best left for kids. Overall, its cabin looks modern with a good look but nothing too fancy or lavish.
Technology & Safety
The Nissan Pathfinder comes standard with a variety of tech features that include Apple CarPlay, 8 inch touchscreen, four USB ports, Android Auto, six speakers, and satellite radio. Safety tech of the car includes rear traffic alert, rearview camera, lane departure warning, auto emergency brakes, rear door alert, and more.
The Acura MDX features a number of technological devices such as a touchpad control, a 12.3 inch screen, satellite radio, nine speakers, Bluetooth, HD radio, USB ports, Amazon Alexa, wireless charging, Apple CarPlay and Android Auto. Safety tech includes traffic jam assist, rearview camera, sign recognition, pedestrian detection, auto emergency brakes, and more.
Performance
The Nissan Pathfinder is powered by a 3.5L V6 engine that can produce 284 hp. Its gas mileage can hit approximately 21 mpg and 26 mpg for city and highway.
The Acura MDX generates 290 hp from its V6 engine that runs on a 10-speed auto. It can fetch up to 19 mpg and 26 mpg of estimated EPA ratings for city and highway.
The Bottom Line
The Nissan Pathfinder has been redesigned to offer travelers greater comfort and bigger space. Its interior is much more impressive than its predecessor, boasting a more stunning style and attractive appeal. Performance wise, it does not fail to impress. Its enjoyable driving dynamics make every ride pleasant while delivering optimal safety with first-rate features.
Ready to Schedule a 2022 Nissan Pathfinder Test Drive Today?
If you are interested in experiencing the luxury package that the 2022 Nissan Pathfinder offers, you can test drive this stellar car with us at Nissan of Stockton. We are located at E Hammer Ln, Stockton, and proudly serve car buyers in California. Drop by our showroom today or simply call us in advance to book a 2022 Nissan Pathfinder test drive appointment.
---