2022 Nissan Pathfinder vs. 2022 GMC Acadia
The 2022 2022 Nissan Pathfinder gets points for not just having an upscale interior, but for offering an airy space inside. You will be fascinated by its pleasant driving mechanics, and its long list of standard safety and tech features. Expect a fully redesigned version of its predecessor once you see it.
That of the 2022 GMC Acadia is gifted with a user-friendly infotainment setup too. What else is it ready to offer to car buyers out there? Let us find out by reading through this comparison.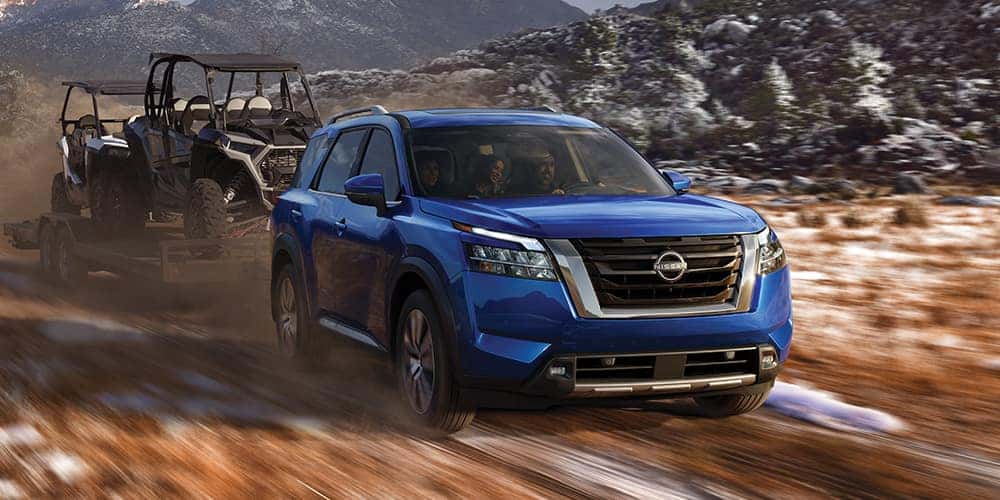 Design & Style
The 2022 Nissan Pathfinder gives users the chance to enjoy comfortable seats, while the driver gets a perfect driving position for their needs. It also has a minimalist setup, and you will find it a pleasure to drive wherever you go. It gets good exterior dimensions too, making it one of the most reliable midsize SUVs out there. Its 16.6 cubic feet of space at the back is enough to hold many of your belongings during your trip.
The GMC Acadia, on the other hand, you will not really be impressed with how the cabin space has been designed in the SUV. This only basically measures an underwhelming 12.8 cubic feet at the cargo. It can sit up to seven people, but it is best to leave the third row for kids to enjoy the comfort that it is supposed to bring.
Technology & Safety
Gifted with four USB ports, six speakers, and a satellite radio, the 2022 2022 Nissan Pathfinder knows what it can give to its users in terms of technologies. Add to that, it integrates Apple CarPlay and Android Auto as well. This one also features an intuitive eight-inch touch screen display. Safety wise, you can count on its long list that includes automatic high-beam headlights, rearview camera, lane departure warning, pedestrian detection, rear parking sensors, and front and rear collision warning, among others.
The 2022 GMC Acadia, just like the Pathfinder, offers six speakers. It also wirelessly integrates smartphone, and has an eight-inch touch screen display. Safety wise, it also guarantees a long list, but misses out on the front and rear collision warning that the Pathfinder offers.
Performance
Scoring up to 284 horsepower for its V6 engine, the 2022 Pathfinder gets good points in this aspect. Add to that, it gets 26 mpg for highway driving, and 21 mpg for city driving. In the case of the Acadia, it only scores 228 horsepower, with a highway driving rating of 27 mpg, and city driving score of 21 mpg.
The Bottom Line
If you are after a reliable SUV that you and your family can count on, you have an answer in the 2022 2022 Nissan Pathfinder. We appreciate the Acadia for setting some good points in terms of technologies, but it just lags behind in all other aspects. It needs to work some more to achieve what the Pathfinder has achieved.
Ready to Schedule a 2022 Nissan Pathfinder Test Drive Today?
If you are interested in experiencing the luxury package that the 2022 2022 Nissan Pathfinder offers, you can test drive this stellar car with us at 2022 Nissan of Stockton. We are located at E Hammer Ln, Stockton, and proudly serve car buyers in California. Drop by our showroom today or simply call us in advance to book a 2022 2022 Nissan Pathfinder test drive appointment.
---