2022 Nissan Pathfinder vs. 2022 Hyundai Palisade
When you are looking for a large SUV that can accommodate the entire family, it can be a tough choice between the 2022 Hyundai Palisade and the Nissan Pathfinder. Admittedly, the two are more alike than they are different, but let's take a closer look at the little details that can sway your vote!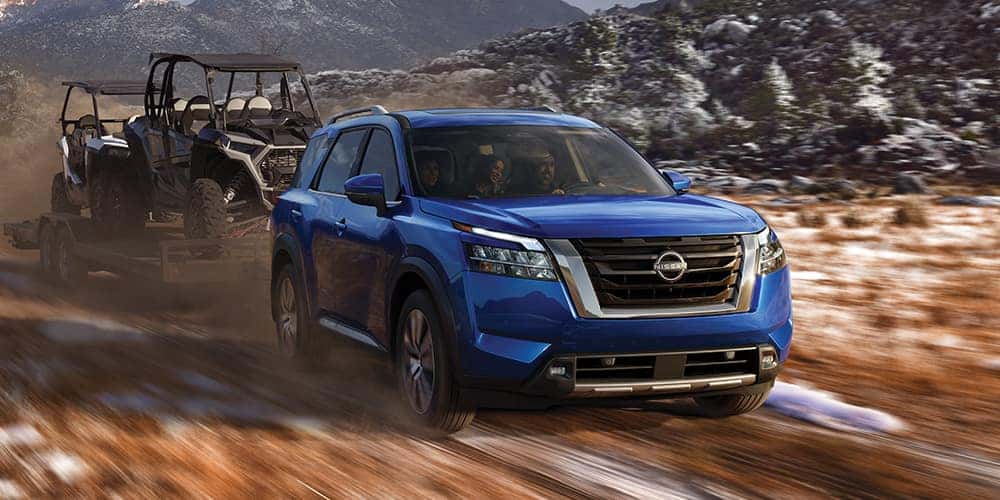 Design & Style
One highly acclaimed feature of the Nissan model is the luxurious features you get with the upper trim models. This includes a panoramic sunroof, heated and ventilated front seats as well as airline-standard leather upholstery. With a large bin below the center console serving as storage space, storage cubbies can also be found throughout the vehicle.
With the Limited and Calligraphy trims of the Hyundai Palisade, you can choose between a bench seat or two captain's seats for the second row. This brings down passenger capacity to 7. On the other side of the equation, the door cubbies do present a tight fit which docks some points off, but you will find plenty of storage space below the centre console.
Technology & Safety
ProPilot Assist, a semi-autonomous driving mode by Nissan, is available on the SV, SL and Platinum trims. All trims benefit from a suite of safety features that include automatic high-beam headlamps and blind spot monitoring. Although the standard infotainment system is pretty basic, drivers have the option to upgrade to more sophisticated features, a plus point when it comes to customization.
Just like with the Nissan model, the Hyundai Palisade offers plenty of modern safety technologies. This includes standard lane departure warning and a semi-autonomous driving mode. The 12.0-inch touchscreen offers Bluetooth connectivity, Apple CarPlay and Android Auto as standard across all trims, making it a pretty comprehensive offering.
Performance
One sought after feature that the Pathfinder comes with is its exceptionally quiet ride, always a plus point for those who are looking for a peaceful ride. This is thanks to the sound-deadening elements introduced by Nissan. Drivers can choose to add on the all-wheel drive mode, which also gives you access to a range of seven other drive modes.
Like the Pathfinder, drivers can upgrade to all-wheel drive on the SE, SEL and Limited Trim levels with the Hyundai Palisade, whereas the range-topping Calligraphy trim includes it as standard. Going from 0 to 60 mph in 6.9s, it's just slightly slower than the Pathfinder. With a horsepower of 291, the acceleration rate is acceptable for a vehicle of its size.
The Bottom Line
When all is said and done, you will find that the differences between the two models may be miniscule, but it's just enough for the Nissan Pathfinder to stand out a little bit more. When you are looking for a reliable minivan that can take your family places, you can never go wrong with the trusty Pathfinder!
Ready to Schedule a 2022 Nissan Pathfinder Test Drive Today?
Wish to test drive a 2022 Nissan Pathfinder before sealing the deal? Come to Nissan of Stockton today – you can either drop by our showroom to view our offering of vehicles or call us to schedule a test drive appointment today.
---