2022 Nissan Pathfinder vs. 2022 Mitsubishi Outlander
The 2022 Nissan Pathfinder features a revamped look and interior that make it an even greater choice of a vehicle. It has emerged as a great competition, offering a wide array of tech features and plenty of support and comfort in its seats. Infotainment features are equally impressive, providing easy navigation access and entertainment while driving. Find out what other benefits you stand to enjoy from this opulent vehicle. We have made a comparison between the Pathfinder and the 2022 Mitsubishi Outlander so you can determine how each vehicle fares.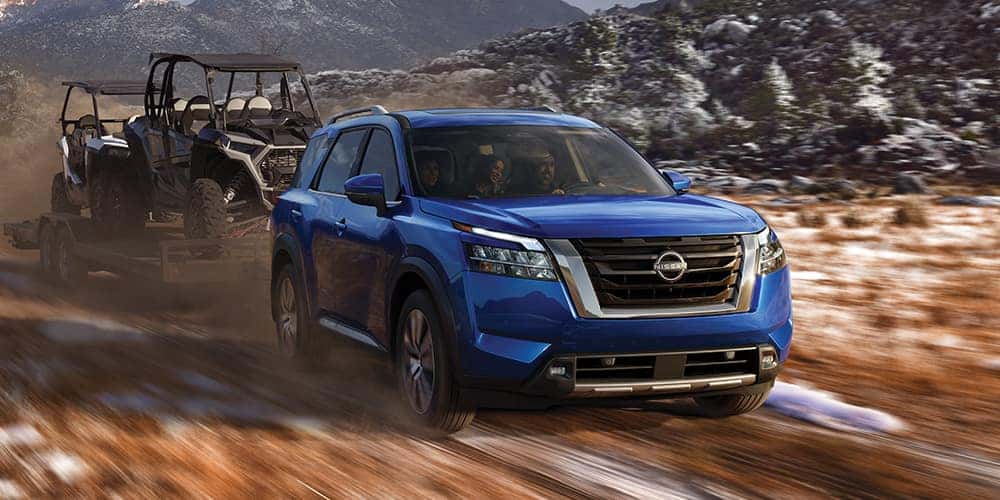 Design & Style
The Nissan Pathfinder has a beautiful redesigned cabin that looks appealing and feels comfortable. Its interior has a modern touch which is a rare find. Many soft materials adorn its surfaces, creating a well put together cabin that feels solid and definitely attracts attention. The car can seat up to eight people on its three rows, offering ample space in each one. Its seats are full of cushioning and long hauls will remain comfy throughout.
The Mitsubishi Outlander has undergone an extreme makeover, using more upscale materials for its cabin surfaces. Insulation is good on the inside, blocking out most external noises. It has a clean cut dash that looks modern which is equipped with intuitive features for on-the-go use. Its seats are just as impressive, offering enough support and a good design.
Technology & Safety
The Nissan Pathfinder is equipped with a standard list of tech advances that include Apple CarPlay, 8 inch touchscreen, four USB ports, Android Auto, six speakers, and satellite radio. Safety tech of the car includes rear traffic alert, rearview camera, lane departure warning, auto emergency brakes, rear door alert, and more.
The Mitsubishi Outlander features a number of technological devices such as Apple CarPlay, an 8 inch touchscreen, two USB ports, Android Auto, and six speakers. Safety tech of the car includes parking sensors, rearview camera, collision warning, rear traffic alert, and more.
Performance
The Nissan Pathfinder runs on a 3.5L V6 engine that can put out 284 hp. Its gas mileage can hit approximately 21 mpg and 26 mpg for city and highway.
The Mitsubishi Outlander is a city slicker that delivers 181 hp from its 2.5L engine with four cylinders. Its gas mileage fetches around 24 mpg and 31 mpg for city and highway.
The Bottom Line
The newly revamped Nissan Pathfinder makes it an ideal choice if you are looking for an aesthetically pleasing vehicle that does not compromise on comfort or performance. It gives you the best of both worlds so you get to enjoy a beautiful vehicle that is equally supportive. Safety is successfully delivered as well, with various high-tech features being included in the base model.
Ready to Schedule a 2022 Nissan Pathfinder Test Drive Today?
If you are interested in experiencing the luxury package that the 2022 Nissan Pathfinder offers, you can test drive this stellar car with us at Nissan of Stockton. We are located at E Hammer Ln, Stockton, and proudly serve car buyers in California. Drop by our showroom today or simply call us in advance to book a 2022 Nissan Pathfinder test drive appointment.
---