2022 Nissan Pathfinder vs. 2022 Toyota 4Runner
Providing an upscale interior for its passengers, the 2022 Nissan Pathfinder is one SUV that you will truly want to try. Add to that, this redesigned version of its 2021 edition comes fitted with many standard features too.
That of the 2022 Toyota 4Runner promises buyers with off-road capability and good cargo capacity. It also has plenty of rows for its passengers.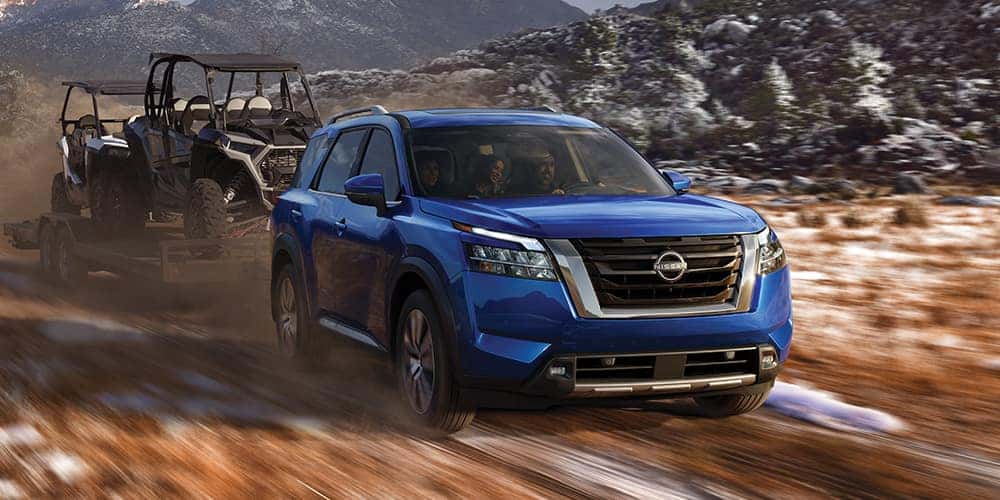 Design & Style
If you are looking for an SUV that has spacious seating inside, you will never go wrong choosing the Pathfinder 2022 model. This is likewise equipped with plenty of quality materials, and with a 16.6 cubic feet of trunk space opening up for your belongings at the start, you will appreciate it even more. This expands to cover 80.5 cubic feet when the last two rows are folded. It follows a seven-seat layout that drops off to six, if you trade the second-row bench for captain's chairs.
The Toyota 4Runner, on the other hand, comes in two designs. One is a two-row SUV that can accommodate five passengers, and has about 42 cubic feet of space when the second row is folded. In the case of the three-row version, that area expands to hold approximately 89 cubic feet once the last two rows are folded. The third row for the other type of SUV is best left for kids though. Its cabin is not impressive, as it is the most outdated in its class in terms of styling.
Technology & Safety
Gifted with an eight-inch touch screen display, the 2022 Nissan Pathfinder gets good points for being able to integrate Apple CarPlay and Android Auto. It is likewise equipped with six speakers, a satellite radio, and four USB ports. Safety wise, its long list includes rear cross traffic alert, blind spot monitoring, lane departure warning, automatic emergency braking, front and rear collision warning, and rear parking sensors, among others.
The 2022 version of the 4Runner gets an eight-inch touch screen too for its infotainment system. While it has Amazon Alexa as a standard, it simply misses points for not having lane keep assist, rear cross traffic alert, and blind spot monitoring in its list of driver aids.
Performance
Giving off power for the Nissan Pathfinder is a V6 engine under its hood which is capable of hitting up to 284 horsepower. This defeats the V6 engine used by the 4Runner which only registers up to 270 horsepower. Fuel-efficiency wise, scores for the Pathfinder are 26 mpg and 21 mpg for highway and city driving, respectively, beating the ratings of the 4Runner at 19 mpg and 16 mpg in the said aspects.
The Bottom Line
The 2022 Nissan Pathfinder is one reliable SUV equipped with all the amenities that you are looking for. It is better-styled, more reliable, and extra powerful when compared to the 2022 Toyota 4Runner. This comparison has shown that.
Ready to Schedule a 2022 Nissan Pathfinder Test Drive Today?
If you are interested in experiencing the luxury package that the 2022 Nissan Pathfinder offers, you can test drive this stellar car with us at Nissan of Stockton. We are located at E Hammer Ln, Stockton, and proudly serve car buyers in California. Drop by our showroom today or simply call us in advance to book a 2022 Nissan Pathfinder test drive appointment.
---