2023 Nissan Ariya vs. 2022 Toyota RAV4
The 2022 Toyota RAV4 is a rugged sport utility vehicle with a comfortable riding experience and lots of standardized driver assistance gear. But is this enough to beat the 2023 Nissan Ariya, an SUV which has received acclaim for its gorgeous experience, extensive driving range and impressive performance?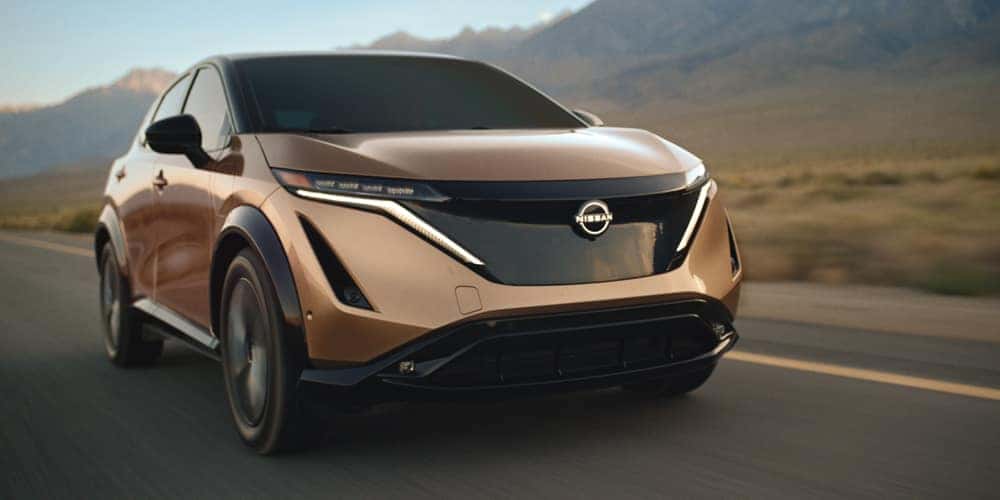 Design & Style
The Nissan Ariya comes with 4 trim levels. Unlike the Nissan Leaf, which is restricted to front wheel drive, the Nissan Ariya utilizes all wheeled drive as an optional feature. It uses a dual front/back electrical motor configuration and features a sporty, near futuristic exterior. Within the cabin, most buttons have been discarded in favor of a sleek dashboard that is minimalistic.
Those who purchase the Toyota RAV4 will also have the option of all wheeled drive. It has a four cylinder, 2.5 liter engine that is standardized along with an automatic eight speed transmission. Passengers within the cabin will be presented with upholstery covered in faux leather and heated seats. Its latest features for the year include revised headlamps, the addition of the Calvary Blue paint color, and LED based fog lamps.
Technology & Safety
The Toyota RAV4 has received a perfect 5 star rating from the NHTSA. It has a host of features including blind area monitoring, alerts for cross traffic in the rear, pedestrian detection, cruise control that is adaptive, lane management and automatic notifications when departing lanes. Amenities within its cabin include a seven inch display, 4G LTE infotainment system, the choice of Android Auto or Apple CarPlay and JBL audio.
The Nissan Ariya is also well equipped to protect its passengers, and accomplishes this through a proprietary system called ProPilot 2.0, along with the ability to detect pedestrians, automatic emergency brakes, lane management, multiple airbags and cruise control which are adaptive. Luxuries within its cabin include 12.3 inch dual touch displays, the option of Apple CarPlay or Android Auto, the ability to pre-cool or pre-heat the vehicle based on driver preferences, and the ability to use one's smartphone to park it remotely through a feature called ProPilot Remote Park.
Performance
Those that purchase the Nissan Ariya all wheeled drive variant will be able to generate 389 horsepower with the ability to accelerate from zero to sixty in under five seconds. Those that purchase the Toyota RAV4 will get a 4 cylinder engine that can generate 203 horsepower with the ability to accelerate from zero to sixty in eight seconds.
The Bottom Line
Though the Toyota RAV4 has award winning safety features, its touchscreens are too small, its engine performance is lackluster and the base model doesn't offer many luxuries, which makes the Nissan Ariya the winner.
Ready to Schedule a 2023 Nissan Ariya Test Drive Today?
If you are interested in experiencing the luxury package that the 2023 Nissan Ariya offers, you can test drive this stellar car with us at Nissan of Stockton. We are located at E Hammer Ln, Stockton, and proudly serve car buyers in California. Drop by our showroom today or simply call us in advance to book a 2023 Nissan Ariya test drive appointment.
---