2023 Nissan Ariya vs. 2023 Chevrolet Bolt EUV
Come on over to our Nissan dealership near Stockton, CA and be spoiled for choice over our extensive collection of the latest Nissans. We strive to deliver the best customer service along with the most competitive prices in the market, so you can enjoy maximum value in every vehicle purchase. Check out the 2023 Nissan Ariya and what it has to offer. We have put it up against the 2023 Chevrolet Bolt EUV to compare their features and more.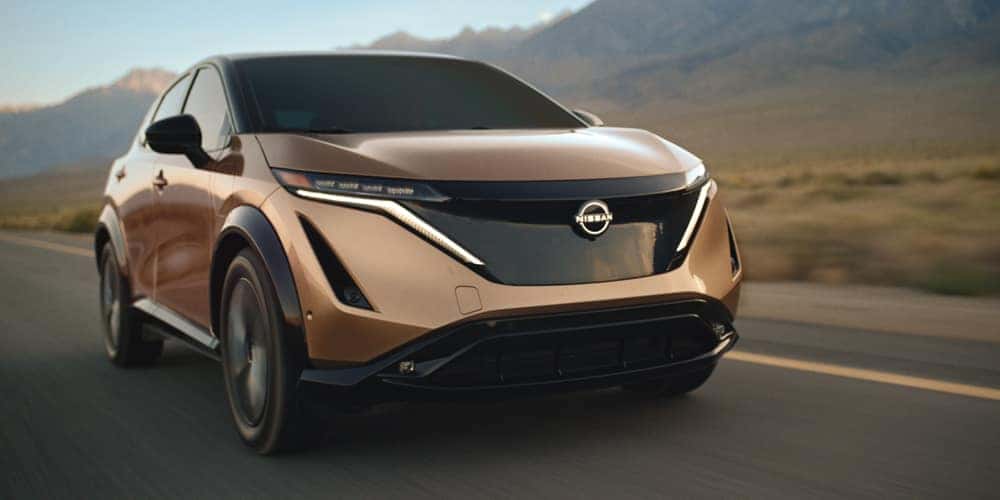 Design & Style
The Nissan Ariya looks and feels exclusive both inside and out. It is definitely the vehicle to pick if you are seeking an electric vehicle that makes a good first impression as design is most likely its best suit. Its cabin comes with touch-sensitive buttons which are all integrated into the beautiful wooden trimmings. The center armrest is motorized to give you that ease of access in every ride.
The Chevrolet Bolt EUV does look and feel nice with its cabin interior being adorned in quality finishes. Some hard plastics are also used on other surfaces and its doors, thus nothing looks over the top overall. Insulation is good for the Bolt EUV, blocking most external noises. The car can accommodate up to five people on well-cushioned seating but space wise is not that passenger-friendly.
Technology & Safety
The Nissan Ariya comes equipped with the ProPILOT 2.0 which is the latest rendition of Nissan's driver assistance tech. It helps drivers to navigate stop-and-go on the highway, stay centered in their lane, and maintain a set vehicle distance and speed to the front vehicle. Multi-lane highway driving tasks are also supported for passing, lane changing, and exiting the highway.
The Chevrolet Bolt EUV is packed with tech features like six speakers, a 10.2-inch touchscreen, Android Auto, Apple CarPlay, wireless device charging, WiFi hotspot, two USB ports, a satellite radio, and an HD radio. Safety tech of the car is made up of Teen Driver system, pedestrian detection, collision warning, and others.
Performance
The Nissan Ariya can put out 238 hp via 178 kW AC synchronous electric engine and returns 285 MPGe of mileage.
The Chevrolet Bolt EUV runs on a 65-kWh lithium-ion battery along with an electric motor that can deliver 200 hp. It can get roughly 235 MPGe of EPA rating for the city and 104 MPGe for highways.
The Bottom Line
The Nissan Ariya feels like a full-range SUV despite being an electric vehicle. The power it is set to deliver will definitely fulfill your expectations of a comfortable and high-performance vehicle, fit for any lifestyle. The Ariya is a great choice for those seeking a user-friendly vehicle that is easy to drive and remain comfortable throughout longer distances.
Ready to Schedule a 2023 Nissan Ariya Test Drive Today?
If you are interested in experiencing the all-rounded package that the 2023 Nissan Ariya has to offer, come test drive this top-notch car with us at Nissan of Stockton. We are located at E Hammer Ln, Stockton, and we serve car buyers across California. Come visit us today or simply book an advance 2023 Nissan Ariya test drive appointment via phone.
---