2023 Nissan Ariya vs. 2023 Kia Niro EV
Visit our Nissan dealership near Stockton, CA and you will be spoiled for choice with our wide selection of new Nissan vehicles. To ensure that every one of our customers receives the highest possible value from their vehicle purchase, we work hard to provide quality vehicles at the lowest possible prices. Explore the 2023 Nissan Ariya and its features in the following article. We have compared its capabilities to the 2023 Kia Niro EV.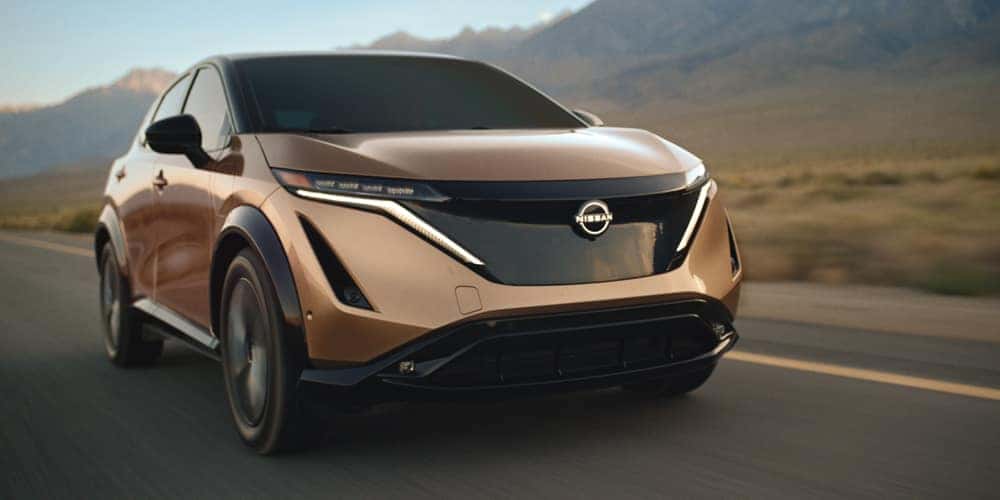 Design & Style
Both the interior and exterior of the Nissan Ariya exude a sense of luxury. If you want an electric car that turns heads, this is it because its sleek style is arguably its strongest selling point. Beautiful wood accents complement the touch-sensitive buttons found throughout the front row. Each and every travel will be that much more convenient thanks to the powered central armrest, another one of its beautiful interior features.
The Kia Niro EV boasts a handsome cabin that makes use of eco-friendly materials for its surfaces. Most of the materials are high in quality and there are very minimal hard plastics around. The car has a seating capacity to support five people and its seating is spacious in the front row as well as the back. Even so, it is best for the rear seats to be left for just two adults for maximum comfort.
Technology & Safety
The Ariya has Nissan's latest generation of driver assistance technology, ProPILOT 2.0. It aids drivers in handling stop-and-go traffic, staying in their lane, and keeping a constant distance and speed from the car in front of them. The tasks of passing, switching lanes, and exiting a multi-lane highway are also provided through this tech.
The Kia Niro EV features a number of tech advances like six speakers, an 8-inch touchscreen, Android Auto, Apple CarPlay, and three USB ports. Safety features of the car include lane keep assist, pedestrian detection, collision warning, traffic sign recognition, lane departure warning, auto high beams, and rearview camera.
Performance
The Nissan Ariya is set to produce 238 hp via 178 kW AC synchronous electric engine and fetches 285 MPGe of mileage.
The Kia Niro EV delivers subtle power through a four-cylinder engine that can make 139 hp. Its EPA rating can fetch up to 53 mpg and 54 mpg for city and highway travels.
The Bottom Line
While being an electric vehicle, the Nissan Ariya still manages to feel like a full-range SUV. The power that it is designed to provide means it will be an excellent choice for anyone looking for a stylish and fast car that will not sacrifice comfort. If you are looking for a ride that is pleasant to drive and keeps you comfortable over long distances, the Ariya is an excellent option.
Ready to Schedule a 2023 Nissan Ariya Test Drive Today?
If you are interested in experiencing the all-rounded package that the 2023 Nissan Ariya has to offer, come test drive this top-notch car with us at Nissan of Stockton. We are located at E Hammer Ln, Stockton, and we serve car buyers across California. Come visit us today or simply book an advance 2023 Nissan Ariya test drive appointment via phone.
---